Clean water means a better life
Growing up in the rural Rwamiko Sector, Gicumbi District in the Northern part of Rwanda, Theogene Ndayishimiye always struggled to access clean water.
Every day, as a young boy, Theogene got up early morning and walked downhill to fetch water – dirty water from a stream that runs in the valley. He remembers missing classes as he often arrived late at school. Some of his colleagues and agemates also endured the same experience. Some people in his village fell sick because they used dirty water, he recalls. Life was hard.
"The situation was really terrible," he says. "As young school children, we were used to missing school and lessons as we looked for water. It had become common, just a normal way of life," Innocent says.
"The water was so dirty that it made us sick. Waterborne diseases were common in the village, and you would realize that people are really dirty as the little water we could get from downhill wasn't enough for all the needs."
But that was before his village – and thousands more across his district- were provided with clean water as a result of the Gicumbi WASH Program. Started in 2016, this is an ambitious collaboration between Water For People, the Rwandan Government and Gicumbi District to bring water to every community, every school and every health facility across the district. As a result of this program, access to clean water across the district grew from 44% of the district population to about 86% in 2022.
Today, Theogene Ndayishimiye is a happy man.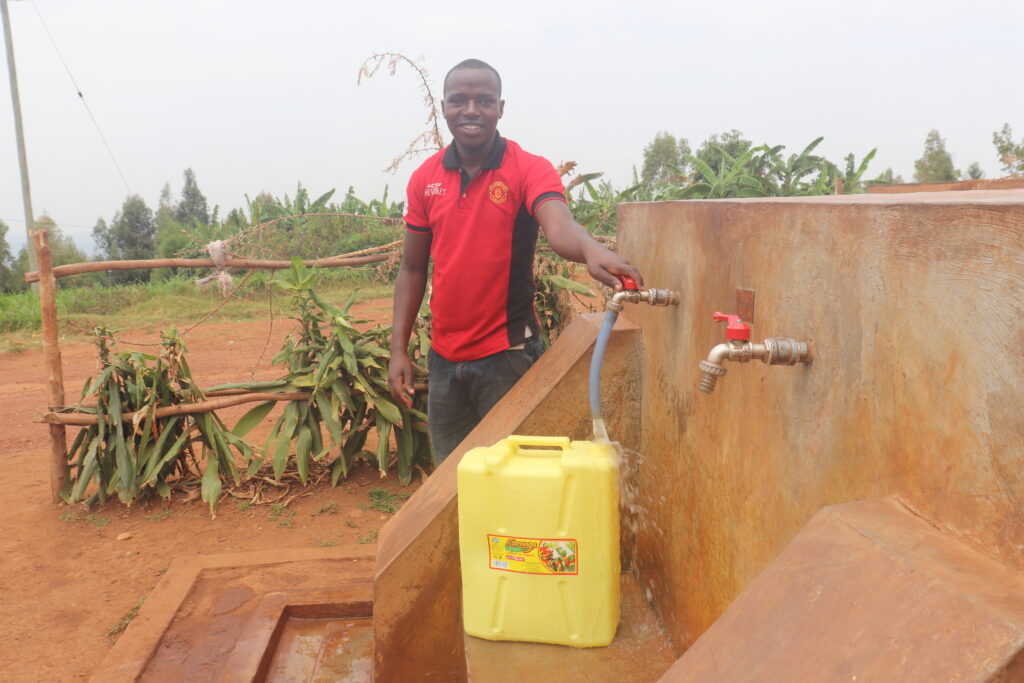 "Our lives have changed. We now have clean water near our homes and instead of spending hours looking for water, we are busy working to develop ourselves," the 30-year-old man, who runs a small boutique in his rural village, tells me as he fetches water from a water point established about 50 meters from his shop. "We are clean because we have water," he says proudly, noting that access to clean water has brought opportunities for growth, improved lives and development.
"We are now healthy and have time to work to develop ourselves," he notes, before adding: "When you have clean water, you live a better life."